LIKE
Be the first to like this!
QUALIFYING RESULTS FROM ROUND 6 OF 2022 FORMULA DRIFT PRO CHAMPIONSHIP IN SEATTLE
by FormulaD
|

August 5th, 2022

EVENT DETAILS

Date: Friday, August 5, 2022
Location: Evergreen Speedway, Monroe, WA
Event: Formula DRIFT PRO Championship Round 6: Throwdown

RESULTS FROM FD PRO QUALIFYING
Kazuya Taguchi (Japan) - ISR UpGarage / GT Radial Scion FRS
Chelsea DeNofa (USA) - Pennzoil / BC Racing Ford Mustang RTR Spec 5-FD
Chris Forsberg (USA) - NOS Energy Drink Nissan Z on GT Radials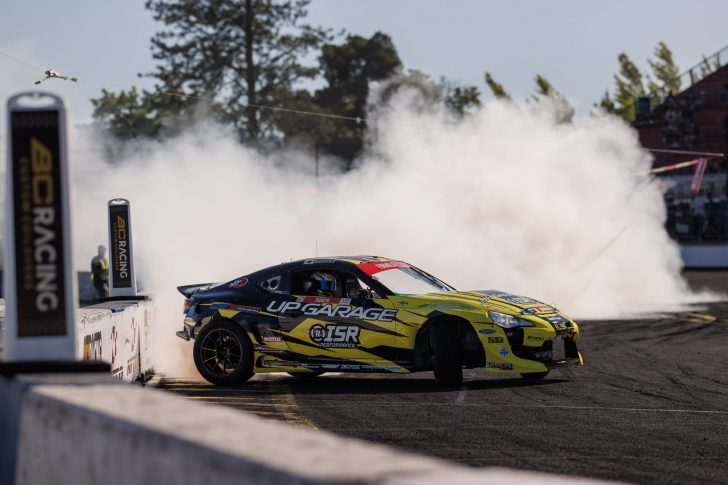 NOTES
The weather was a pleasant mid-70s with a light breeze to clear the tire smoke
After the perfect weekend in St Louis, Taguchi again qualified first with a score of 93 points
Five drivers scored 90 points, with DeNofa placing second and Forsberg third once the scores were broken down into style, angle and line
2022 FD PRO Championship points leader Matt Field (USA) was fourth in the Drift Cave / Falken Tire C6 Corvette and everybody is wondering when he'll finally get his first win of the season
Most of the top seeds qualified well, but as in St Louis, Aurimas Bakchis (Lithuania) again experienced problems on his first run in the Falken Tire / Feal Suspension Nissan S15 and had to fight through the Knockout Qualifying Format (KQF), which sees the bottom eight drivers run a second time
Thirty six drivers attempted to qualify for the Top 32 competition heats, which meant four would be eliminated in KQF. Those included leading Rookie Daniel Stuke (USA), Darren Kelly (New Zealand), Ola Jaeger (Norway) and Trenton Beechum (USA) who all scored insufficient points to continue
Top Rookie was Nick Noback (USA) who scored 83 points in the KoruWorks E46 BMW, placing him 24th overall
ROUND 6 TOP 16 FD PRO QUALIFYING
POSITION
NAME
POINTS
1 Kazuya Taguchi 3 2 Chelsea DeNofa 2 3 Chris Forsberg 1 4 Matt Field 5 Dylan Hughes 6 Michael Essa 7 Wataru Masuyama 8 Ken Gushi 9 Fredric Aasbo 10 Ryan Tuerck 11 Taylor Hull 12 Joao Barion 13 Justin Pawlak 14 Jeff Jones 15 Travis Reeder 16 Yves Meyer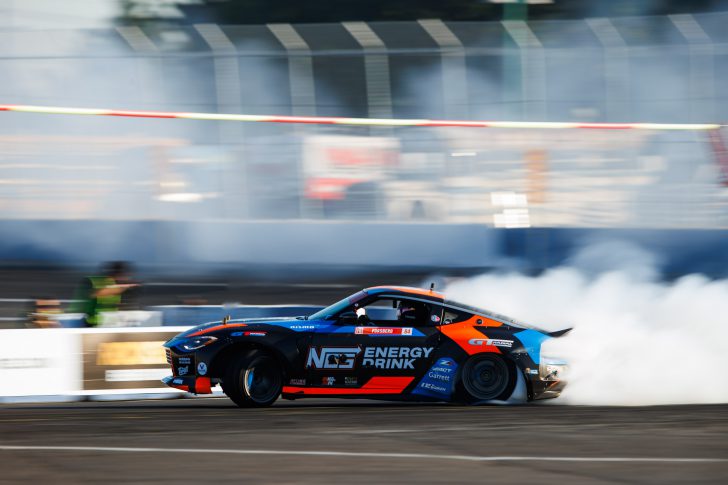 BRACKET FOR ROUND 6 FD PRO COMPETITION HEATS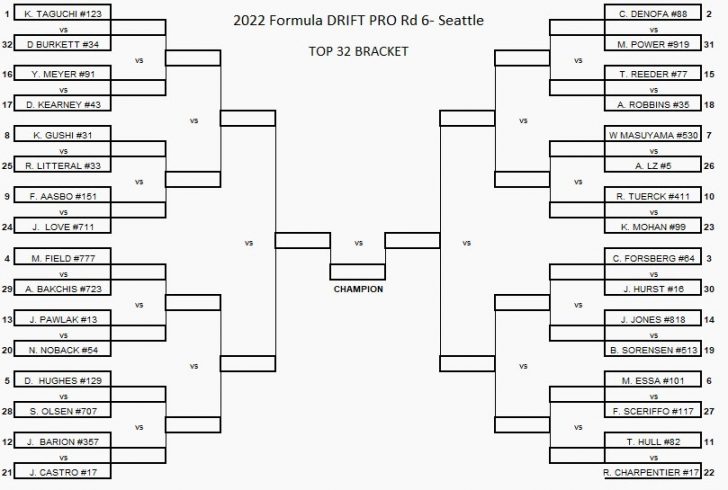 FORMULA DRIFT SEATTLE RECAP
Competition results from the FD PRO Championships will be available tomorrow evening. A recap of all the action from FD SEA with event images will be available on Monday
The post QUALIFYING RESULTS FROM ROUND 6 OF 2022 FORMULA DRIFT PRO CHAMPIONSHIP IN SEATTLE appeared first on Formula DRIFT BLOG.